Become a Park90 member today
Membership Benefits
Up to two subsidiary accounts permitted
Wine & Dine
Access to BYO cellar nights
Access to limited release wines
Invitation to exclusive wine makers events
Lifestyle - Regent Singapore
10% off food bill at Park90
Complimentary corkage for wines from the Park90 wine list at Italian restaurant Basilico & Michelin one-star Chinese restaurant Summer Palace
Preferential room rates at Regent Singapore
1 complimentary parking for every member's bill at Regent Singapore basement carpark
1 additional complimentary parking for every 4 guests at Park90
Lifestyle - Yacht Charters
15% off luxury yacht charter with Marina at Keppel Bay on flagship yachts
Travel - Etihad Airways
Buy Business and enjoy First class on selected destinations to Europe and the USA.
Complimentary Etihad chauffeur service in Abu Dhabi
Complimentary stay in a five-star hotel during Abu Dhabi stopover
Complimentary access to First Lounge & Spa or Premium Lounges
For flight to the US, enjoy fast and convenient customs and immigration pre-clearance in Abu Dhabi before you even board the plane
Travel - The Leading Hotels of the World
Special rates and benefits at over 400 participating hotels in 80 countries
Terms and Conditions apply
Membership Benefits
Wine & Dine
Access to BYO cellar nights
Invitation to exclusive wine makers events
Lifestyle - Regent Singapore
10% off food bill at Park90
Complimentary corkage for wines from the Park90 wine list at Italian restaurant Basilico & Michelin one-star Chinese restaurant Summer Palace
Preferential room rates at Regent Singapore
1 complimentary parking for every member's bill at Regent Singapore basement carpark
1 additional complimentary parking for every 4 guests at Park90
Lifestyle - Yacht Charters
15% off on yacht charter with Marina at Keppel Bay on flagship yachts
Travel - Etihad Airways
Buy Business and enjoy First class on selected destinations to Europe and the USA
Complimentary Etihad chauffeur service in Abu Dhabi
Complimentary two nights stay in a five-star hotel during Abu Dhabi stopover
Complimentary access to First Lounge & Spa or Premium Lounges
For flight to the US, enjoy fast and convenient customs and immigration pre-clearancein Abu Dhabi before you even board the plane
Travel - The Leading Hotels of the World
Special rates and benefits at over 400 participating hotels in 80 countries
Terms and Conditions apply
Wine & Food
Wine Enthusiasts
Explore an extensive selection of wine by the glass, inspired by the reviews of world-renowned wine critics and enthusiasts.
Food Lovers
Indulge in western and asian food carefully selected to go with the array of wines provided by Park90, including food from Michelin one-star Summer Palace.
Indulge your passion for the best wines
The selections have been specially curated, and sourced, from our network of local partners, negociants and chateaux around the world. Old World vs New World, different grape varieties and wine making styles: we leverage upon our extensive reach to source wines for everyone's pleasure in Park90. One thing above all, Park90 allows everyone to indulge in their passion for wine, from early wine explorers to wine experts.
We are fortunate to have access to wines which are on limited release (and typically allocated). As such, we have created a Membership program to procure these Members-only wines. This unique loyalty program is specially designed to appeal to Members who want to enjoy rare and sought-after bottles which often are unavailable in the market.
Our sommeliers
Mason Ng
Park90 (Singapore)
Mason Ng is from Malaysia and is the Group Co-Head Sommelier of Park90. Mason started off his wine career in 3-Michelin starred Les Amis restaurant and is accredited as an Advanced Sommelier by the Court of Master Sommeliers. After his time at Les Amis, he went on to ATLAS to create the wine programme which specialises in both Gin and Champagne as Head Sommelier at the age of 21, with a collection of more than 1,000 gins and 300 different Champagnes during his time. Most recently, Mason was crowned Champion for Singapore's National Sommelier Competition as the Best Sommelier of Singapore 2019. Currently as Co-Head Sommelier of Park90, he leads a team of a dozen sommeliers locally and overseas, and aims to share his love of wines to a broader audience and wine lovers all over the world. He aims to be a Master Sommelier before the age of 30.
Yeo Xi Yang ("Yang")
Park90 (Singapore)
Yeo Xi Yang ("Yang") is from Singapore and is the Group Co-Head Sommelier of Park90. Yang has been a sommelier for over seven years, and started his career in the multi-award winning restaurant Les Amis right after completing National Service. He has won several titles such as Sopexa's Singapore Best Sommelier in French Wines in 2016 and 2018, World Gourmet Summit's Rising Sommelier of the Year, Epicure's Rising Sommelier is the Year and came in second runner up in the Singapore National Sommelier Competition in 2016. He attained his Certified Sommelier title by the Court of Master Sommeliers earlier this year and is looking to take his Advanced Sommelier exam next year. Currently as Co-Head Sommelier of Park90, he leads a team of a dozen sommeliers locally and overseas, and aims to share his love of wines to a broader audience and wine lovers all over the world.
Joel Lim
Park90 (Singapore)
Joel has held positions as Head Sommelier at OUE Restaurants Group, amongst other reputable establishments in Singapore such as 3-Michelin Starred Les Amis. His intrigue with wine and the world of beverages began when he was pursuing his Diploma in Culinary and Catering Management at Temasek Polytechnic. In 2010, Joel won a scholarship to Winery Mosswood in Magaret River, Western Australia. In 2011, Joel won the wine scholarship by World Gourmet Summit and got himself a learning trip to prestigious wineries such as Chateau La Lagune in Bordeaux and Domaine Paul Jaboulet Aine in the Rhone Valley. In eight short years, Joel has attained an array of achievements and accolades. He is a Certified Sommelier by the Court of Masters Sommelier, Certified Specialists of Wine (CSW), French Wine Scholar (FWS) and a WSET Advanced by The Wine & Spirit Education Trust. Joel was recently crowned 1st runner up at the Asia Sommelier Challenge 2019, Best Sommelier of Singapore 2018 and Best Sommelier of SEA + Taiwan 2018.
Szu Hao Tseng
Park90 (Taipei)
Born and raised in Taiwan, lived in Japan, France and the UAE, and he believes his adventure has just begun… After graduating from CFPPA de Beaune with degree of BP Sommelier, he moved to Dubai and Abu Dhabi to develop and enrich his sommelier experience. Within 3 years, he has opened 2 restaurants and was in charge of the wine programme and sommelier team. In addition, he got many opportunities to meet winemakers and guest from all over the world. In 2018, he travelled to South America where he further enhanced my knowledge of the Vino Latino. He thinks the beautiful Andes Mountain and passionate winemakers developed many awesome wines. Now that he is back home in Taipei, he has joined a very passionate and energetic Park90 family based in Taipei. Partnering with Chefs Club, they are sure to bring a real experience and a game change to the city. He is also the 2019 SOPEXA Taiwan Sommelier competition Champion and 2019 SOPEXA Asia Sommelier competition first runner-up.
Lucas Liu
Park90 (Singapore)
Lucas Liu is from Malaysia. After graduating with a Bachelor degree from Taylor's University Malaysia, Lucas put himself in the F&B industry and further showed his passion to be a sommelier. Lucas gained his first sommelier title in 3-Michelin starred Les Amis Restaurant and was certified by the Court of Master Sommeliers Programme during the period. After Les Amis, Lucas worked as Head Sommelier and oversaw one of the most comprehensive vintage and rare champagne lists in Singapore under ATLAS Bar. He joined the Park90 group as he wanted to challenge himself further. Most recently, Lucas was crowned the title of Champion in Ruinart Sommelier Challenge Singapore 2019 as well as the first runner-up in Singapore's National Sommelier Competition 2019. Besides Egly-Ouriet Blanc de Noirs Les Crayeres, one of Lucas' favourite beverages is an iced teh ping!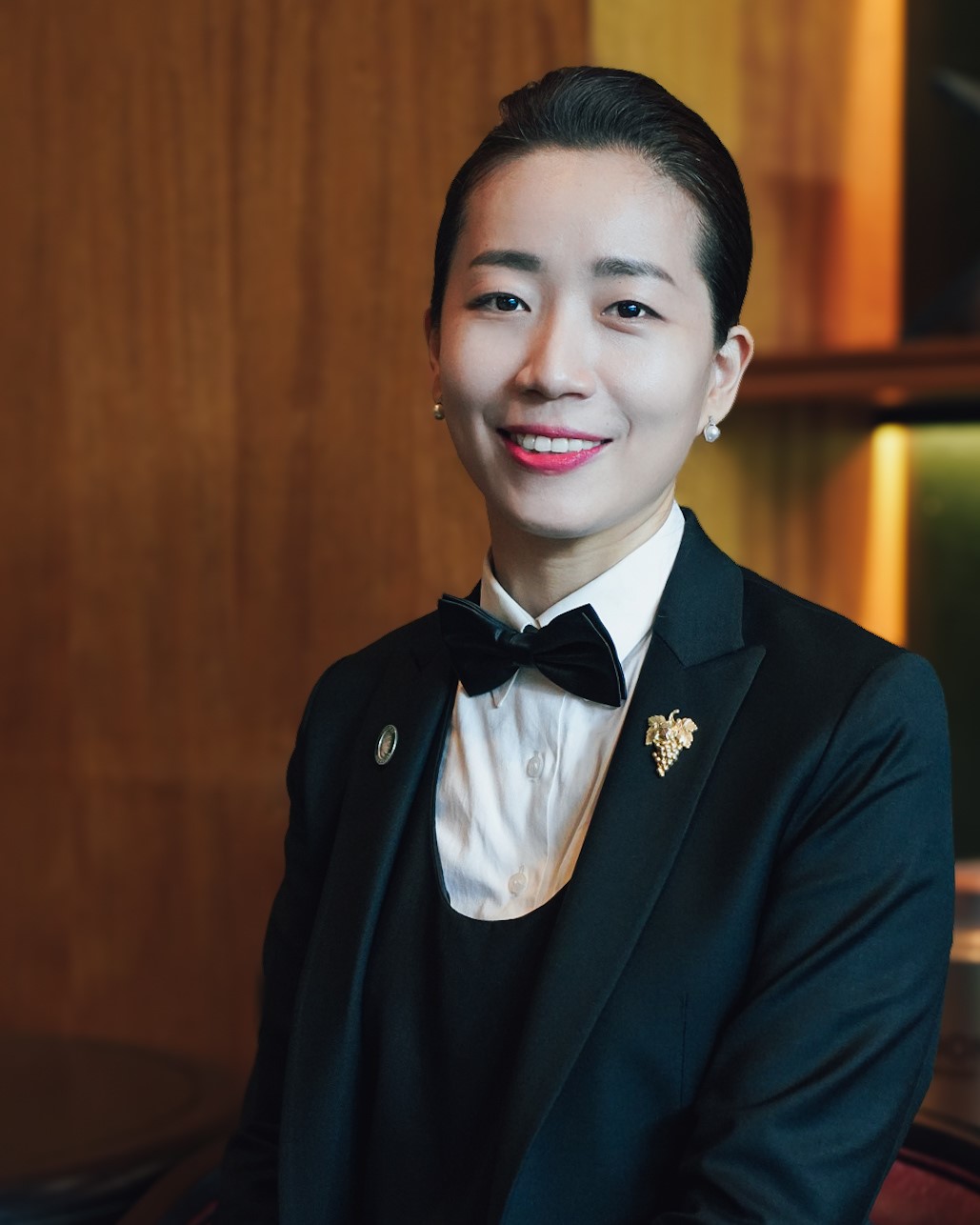 Celine Jung
Park90 (Singapore)
Celine is from Korea and became interested in wine when she worked at The Ritz-Carlton Seoul for more than 10 years in the Food & Beverage department. She wanted to be a sommelier because she liked to relate with customers while they tasted wines. She always enjoyed studying about wine, and won SOPEXA's "Lafite Rothschild Special Prize" in 2013 and became an ambassador. In addition, she clinched the first runner up position in 2016 SOPEXA Korea Sommelier Competition for French Wines and also participated in the SOPEXA Asian Sommelier Competition as a Korean representative. She then helmed the role of Head Sommelier at The Ritz-Carlton, Seoul in 2016, and Chief Sommelier and Beverage Manager at Le Meridien Seoul in 2017. Celine's dream is to become a professional wine educator and aims to be the first Korean Female Master Sommelier. She joined Park90 and is grateful for the training and teamwork that she has received in her time here, and hopes to be able to provide the same for her juniors. She loves Park90 for its great wine selection, and is very happy to be part of the team!
Mark Yen
Park90 (Taipei)
Mark is from Taipei and started his wine career in Australia learning to be a winemaker. After his overseas stint, he worked in a casino as an assistant sommelier for three years before taking on the sommelier role at Taïrroir, a two-Michelin-starred restaurant in Taipei. After two years Taïrroir, he decided to join Park90 in March 2019, and is thankful to be part of the team. He works hard, strives for excellence and stays humble together with the team, ensuring guests a memorable wine experience.
Endika
Park90 (Singapore)
Endika began his career in F&B hospitality almost five years ago. Previously a cabin crew member with Singapore Airlines, Endika believes that success in the F&B industry lies in hard work and maintaining stellar service quality to all guests, all the time. He gained interest about wines when he worked at Atlas Bar, under the tutelage of renowned sommeliers Mason Ng and Lucas Liu. Endika finds being a sommelier a highly challenging and rewarding experience as there is always so much to learn and provides him with the opportunity to interact with and possibly help to make a guest's day at Park90.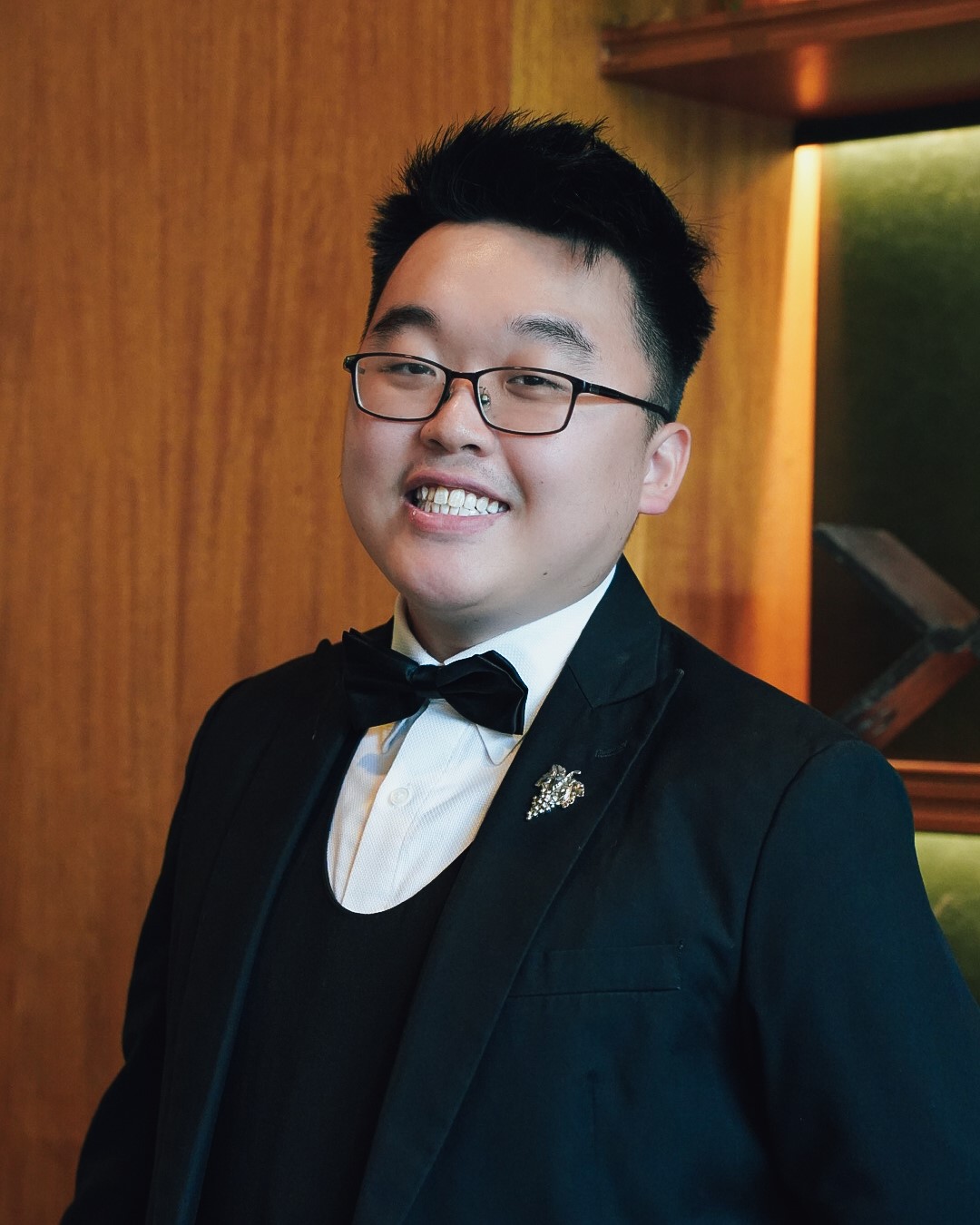 Terry Lim
Park90 (Singapore)
Terry is from Malaysia. He got his first taste in wines whilst studying a food and beverages course in Taiwan university at the age of 21. Obsessed with the lovely aromas of wines, he made it his ambition to become a sommelier. Prior to joining Park90, he had been attached to Taichung, Restaurant Le Mout (Relais & Chateaux) as a sommelier for 2 years. Presently, he is proud to be part of the Park90 family, being able to learn from great sommeliers from around the world and taste many great wines, be it classic or extraordinary. At Park90, Terry is able to enhance his practical skills and broaden his wine knowledge under the guidance of great seniors. His aim is to be an Advanced Sommelier by the age of 30.
Chee Ming Chua
Park90 (Singapore)
Chee Ming is from Malaysia and started off with humble beginnings in the industry as an Assistant Sommelier at Park90 in July 2019. He was in practice as a construction lawyer after graduating from a UK university, and picked up the hobby of drinking wine from his masters and learned friends in the legal profession. He recognised his insatiable thirst to understand and try wines from all around the world could not be fulfilled unless he was part of the wine industry. He'd rather present a white or red wine to you, than the black and white documents full of legal jargon. He is grateful for the golden opportunity to be part of Park90 and to learn from many great sommeliers from around the world. When Themis led him the way to meet Bacchus, he believed that he has to keep pursuing the study for wines in order to share his love of wines to a broader audience and wine lovers all over the world. Chee Ming aims to be an Advanced sommelier by the age of 33.
Ya Tzi Wang
Park90 (Taipei)
Born in Taiwan, Yatzi gained interest in wine when she first joined the food and beverage industry after graduating from Shih Hsin University, Taipei. When she was working at Xiang Se, a restaurant in Taipei, she was responsible for the wine selection and had the opportunity to taste wines from an excellent pool of producers. Gradually, her interest and appreciation for wine tasting grew, which propelled her to join two-Michelin-starred Taïrroir and pursue a career as a sommelier. She is grateful for her journey at Taïrroir, which then brought her to Park90 now. She is thrilled to be working with other talents in the team to give customers a brilliant wine tasting experience.
Lisa Jeon
Park90 (Singapore)
Lisa is from Korea. She fell in love with wine when she was 20 years old, when she did a project on wines during college. Apart from studying about wines through her own initiative, she also started to work at a wine shop during weekends and vacations to enhance her knowledge and skills from wine handling to customer service. As a student of a culinary school and having done a one-year internship in the kitchen, Lisa possesses a good understanding of food and wine pairing. She dreamed of becoming a sommelier when she graduated and came to Singapore thereafter. She worked at one-Michelin-starred Rhubarb Le Restaurant so she could learn more about French wines, and took a certificate for Introductory Sommelier. Currently at Park90, she is happy to be part of a great sommelier team. To her, she loves wines because "wine has something attractive".
Emily Chen
Park90 (Singapore)
Emily Chen is from Taiwan. She left Taiwan for Singapore upon graduation from a four-year hospitality management course in Meiho University. She started her career at Tong Le Private Dining as a service executive, where she learnt the basics of fine dining and wine. The exposure to wines sparked an interest in her, for she was impressed by how a sommelier is able to elevate a guest's dining experience with wine pairing. Keen to delve deeper into the world of wine, she recently joined Park90 in November. She is working hard each and every day to gain more wine knowledge, and finds it enriching to learn from the team here who has been very patient. She hopes to interact and share about wine with more people here at Park90.
Megan Zang
Park90 (Singapore)
Megan Zang is from a little place in Northern China. She attended the University of Sunderland in Singapore, graduating with a Bachelor degree in Tourism and Hospitality. Megan was first exposed to wine with her role as the opening team for 15 Stamford by Alvin Leung, in the Kempinski Hotel. Within this semi fine dining restaurant she learned about wine service and wine pairing. This was an art she was very keen to learn more about, leading her to join the experienced team at Park90 to start her own journey towards becoming a sommelier.
Angel Liu
Park90 (Singapore)
Angel is from Taiwan. She graduated from National Kaohsiung University of Hospitality and Tourism with a food & beverage management bachelor degree. She started her career in the hospitality field at Four Seasons Hotel Singapore in 2012. Throughout the years that she has been in Singapore, she had taken on roles in various bars such as One-Ninety Bar, Manhattan and Atlas Bar. She also partook in the pre-opening projects of The Capitol Kempinski Hotel Singapore and Mandarin Oriental Taipei. She joined Park90 in February 2020, keen to broaden her wine knowledge and hone her professionalism in wine service. Her goal is to become a certified sommelier in two years, while delighting guests during this journey.